Carpeting: Carpeting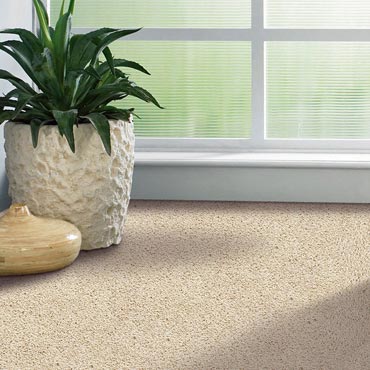 Carpet is a soft floor covering made of bound carpet fibers or stapled fibers. Carpeting refers to wall-to-wall coverage, whereas a rug is simply used to cover a space. This type of flooring is typically used indoors and can be used in both high and low traffic areas. It typically lasts for 15-18 years before it needs to be replaced. The quality of a carpet is usually measured in face weight, or how many fibers there are per square inch. The higher the face weight the more plush a carpet will feel.
Carpets come in a variety of materials including wool, nylon, olefin and polyester.
There are different types of carpet like twists, which is commonly referred to as a berber. Twist carpeting is composed of multiple twisted fibers set into the carpet backing. It is typically used in low traffic areas. Another type of carpeting is looped carpets, which are composed of looped fibers set into the carpet backing. This type of carpeting is typically used in high traffic areas as it is easy to clean.
Brand Overview
---

---
Profile
|
Website
|
Green
Interface Flooring Systems invented free-lay carpet tile more than 25 years ago. Back then, the idea was to hide the seams and to create a monolithic, broadloom-like surface. We still do that. Better than anyone, in fact. Which is why Interface is the world's leading commercial carpet tile brand. But today we're taking modular carpet further, with new styles that celebrate each tile as a design element, allowing the creation of richly detailed, large-scale patterns that are nothing short of stunning.
---

---
Profile
|
Website
More than anything, carpet manufacturers like Mohawk have your specific lifestyle in mind. That's why we innovated the softest, most family-friendly and pet-friendly carpets ever. Our carpet stands up to high-traffic wear and resists life's spills and stains like never before. With so many colors and textures to choose from, there's no reason to put off buying new carpet. With Mohawk, you're sure to find carpeting that suits both your lifestyle and your budget.
---

---
Profile
|
Website
|
Design Tools
|
Maintain
Dream Weaver® is Engineered Floors' retail carpet brand. Made with PureColor® technology, Dream Weaver carpet is infused with color, instead of dyed in it. Dream Weaver carpet fades less, resists stains more, and looks better longer than any other carpet.